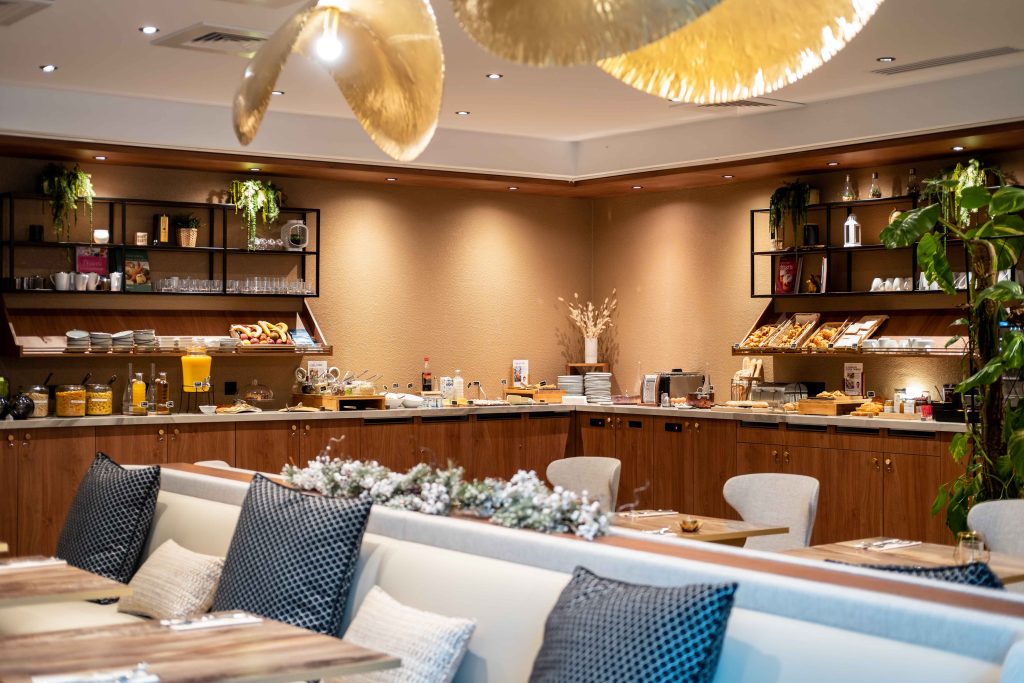 Buffet, in-room or Express
Enjoy breakfast at the Mercure Paris Ouest St Germain en Laye to get your day off to a good start. We offer a varied buffet of quality, gourmet, fresh, home-made products and regional favourites.
We serve breakfast in our restaurant from 6.30am to 10am, or in the peace and privacy of your room, at an additional cost. For those in a hurry, we also offer an express service directly from the bar.
For positive hospitality, book your night with breakfast so that we can better anticipate your needs. 
The "A L'epicerie" restaurant
Savour the bistronomic cuisine of our urban farmhouse boutique restaurant, which celebrates the flavours of the French terroir. Quality ingredients are used in the creations of the restaurant and its chef, and will be found in your dishes. These products come from our partner artisans who are members of the Collège Culinaire de France, from our XXL cheese cloche and from our vertically-grown urban farm.
Every season, the brand and our chef revisit delicious dishes that are part of France's heritage. He brings them up to date with heart and authenticity, using quality ingredients and products such as fruit and vegetables from our urban farm.
Alone or in a group, take a break in one of our friendly, festive and relaxing areas.
Our services come to you: on-site sales, takeaway sales, delivery, room service.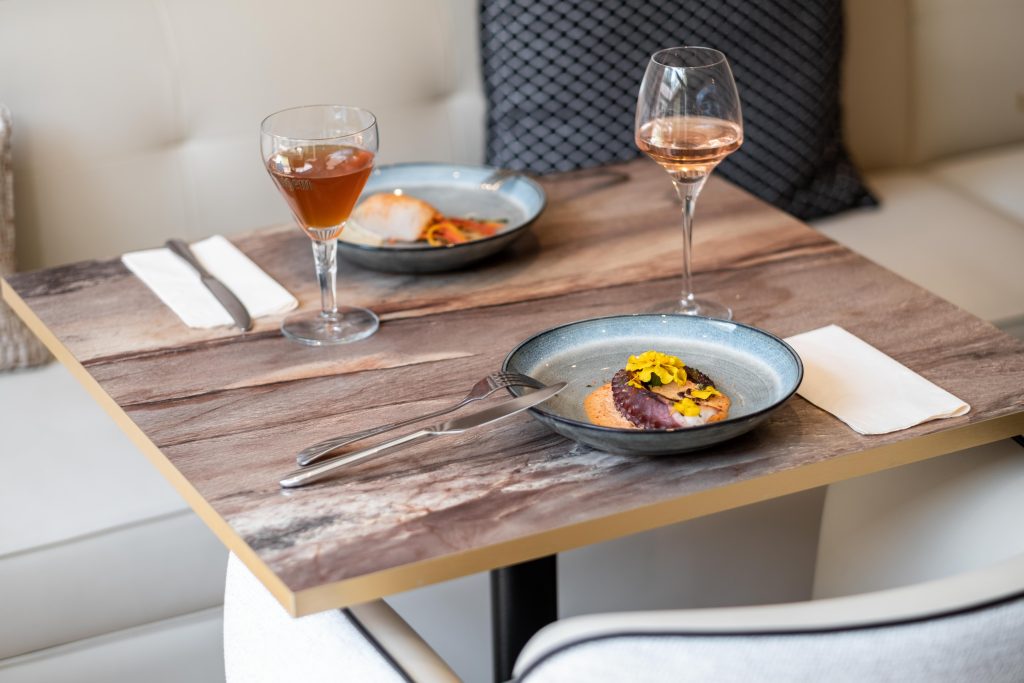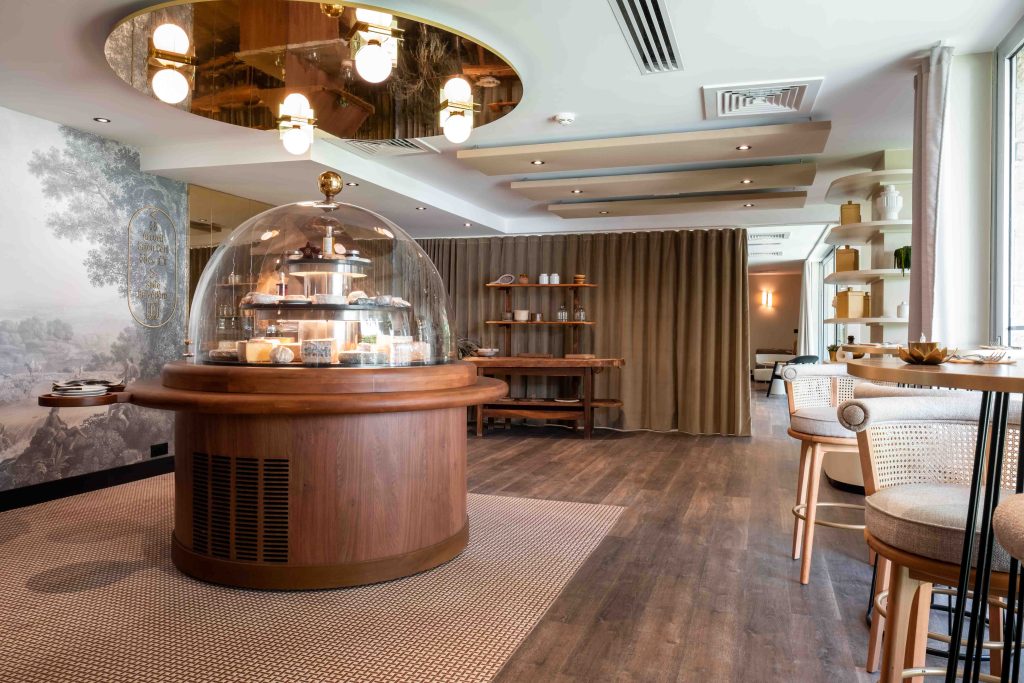 Raclettes, fondues, cocktails, pièces montées
One of the pride and joys of our 'A l'Epicerie' urban farm shop is our XXL cheese bell. It sits majestically in the restaurant, overlooking our outdoor vegetable garden. Measuring 1.80 metres in height and 1.80 metres in diameter, our cheese cloche brings cheeses from the 4 corners of France to maturity. Its unique technology brings out the flavours of the best cheeses from our artisan cheesemakers and farmers.
Designed by René Tourrette, a member of the Collège Culinaire de France, this cloche can hold up to 100 cheeses. The cheeses we are presenting are mainly French, rigorously selected by our partner Maison Tourrette.
Every other Sunday in St Germain en Laye
Come and discover our authentic brunch time "A l'Epicerie", offered every second Sunday during the autumn-winter season at the urban farm boutique table in our Mercure Paris Ouest St Germain-en-Laye hotel!
Join us for a warm and tasty meal with family and friends. Our "A l'Epicerie" brunch time, served from 11.30am to 3pm, offers a selection of home-made dishes and sweet and savoury treats. We'll be delighted to welcome children and those with a sweet tooth! To book our "A l'Epicerie" brunch time in St Germain en Laye, click below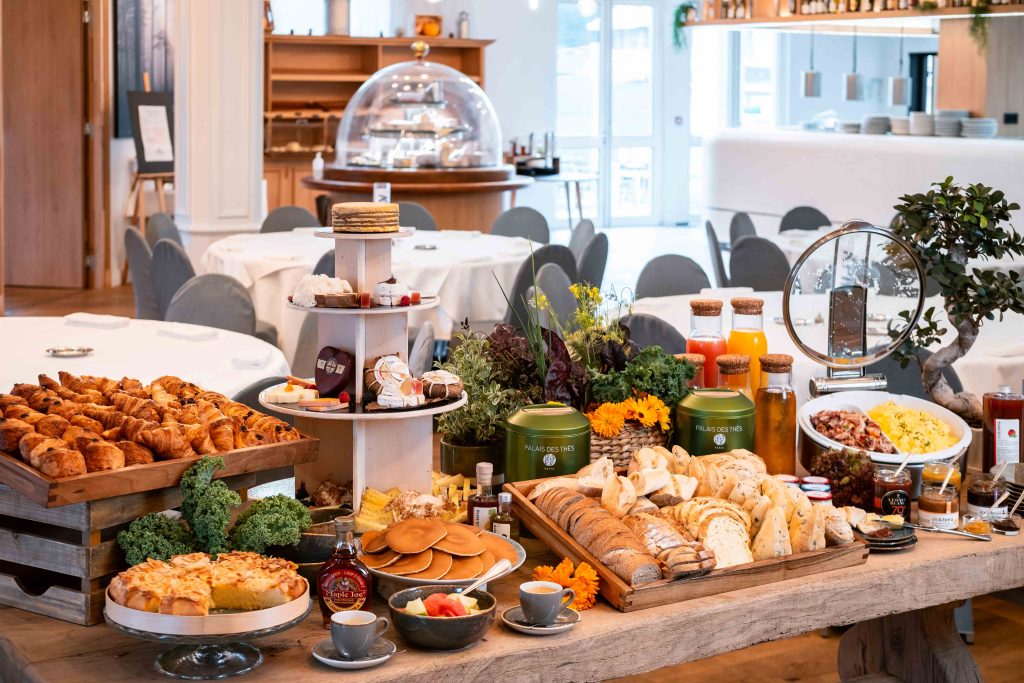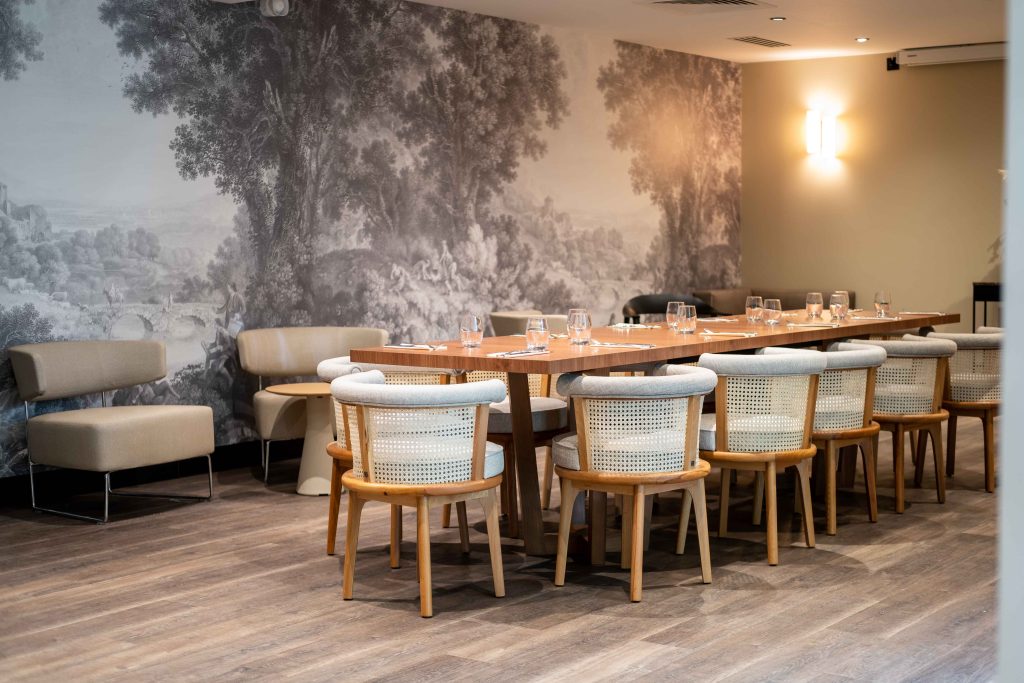 To welcome your friends and colleagues
Our restaurant "A l'Epicerie" has thought of all your needs, with its "private" room. Le Belvédère". The reception area is an extension of the restaurant, behind a magnificent, thick, warm curtain, overlooking the hotel's outdoor garden. You'll be sure to enjoy entertaining your group of friends, a work group or dozens of family and friends here, for a birthday, a personal or professional event, with the assurance of not disturbing your neighbours at home or in the office.
Send us your online quote request for any restaurant or restaurant room privatisation in Paris Ouest, Saint-Germain-en-Laye. Our sales team will get back to you as soon as possible.
A hotel with a unique charm, dream bedding and an exceptional breakfast! Thank you to all the team for their warm welcome...
Nice, quiet hotel close to the castle. Nice, fairly spacious room. Shower and bath. Very varied breakfast. Super restaurant. Original and very fresh dishes. Very friendly staff.
It was a night for our 25 years of cohabitation and we are delighted very nice hotel well located very clean and well decorated very good reception
Very warm welcome, room very much appreciated by my husband and myself! I warmly recommend