GREEN ACTIONS - THE ACHIEVEMENT
Our Mercure Paris Ouest St Germain en Laye hotel is committed to sustainability. Below you will find the actions we have taken to date. You can then share our Green Success Stories, i.e. our slightly more detailed focus on some of our particularly virtuous CSR actions.
ANTI-WASTE : equipment and energy installation audits with Eco-Flux, preventive maintenance, energy-saving programme, seasonal restaurant menu, Phénix anti-waste partner, limiting paper consumption via a vast project to digitise media, programme to reuse sheets and towels (stays > 1 night), master switch in rooms, presence detector in communal areas (except lobbies), low-energy lighting, compliance with water flow standards (showers, taps, toilets), information on accessibility of destinations by public transport, etc.
ANTIPLASTIC : single-use plastic cups and individual toiletries have been replaced by eco-pumps and glass/cardboard cups in rooms, plastic straws and stirrers have been replaced by paste/cardboard materials, the plastic water bottle offered in rooms has been replaced by a Tetra pack made in France and by a water fountain and glass bottles, in catering/event areas ; a more comprehensive "zero plastic" initiative has been underway since September 2022 to eliminate as much plastic as possible from single-use products/objects in the reception area/f&b.
WASTE-RECYCLING Waste sorting: a waste sorting audit was carried out with a score of 56/100, corresponding to "advanced sorting and efforts made to reduce waste production"; sorting of used edible oils (UFOs) and bio-waste is underway; collection of coffee capsules, batteries, light bulbs, glass, paper and cardboard, plastic and metal. Current recycling rate: 41%. Renovation policy based on the internet/external recycling of furniture (90%), the search for sustainability, the inclusion of regional markers in the purchasing policy.
BIODIVERSITY Use of eco-labelled cleaning products (60%), endangered fish species not present on restoration maps
SOCIETY-WELLBEING The Group favours local, made-in-France suppliers: a local brewer, a selection of "A l'Epicerie" wines and champagne, "Mercure" wines, local jams and Aix&terra organic jams, 80% French cheeses from Maison Tourette, labelled products (AOP, AOC, label rouge, MSC), 80% French meat in individual catering; partners for the upkeep of green spaces, sharing of best practices between member hotels, meeting different dietary needs (vegetarian, vegan), the well-being of our employees: membership of a web platform offering discounts on everyday products, sporting activities, etc.
A vertical vegetable garden, 0 pesticides, This is the innovative idea of our operator-owner Atypio Hotels Resorts. 
After carrying out a siting study, Agripolis Fermes Urbaines was asked to install and operate their specific concept of a vertical vegetable garden on the roof of our hotel from winter 2023.
We're hoping to produce between 15 and 25% of vegetables and fruit for our "A l'Epicerie" table and shop, with a 150m² surface area devoted to our above-ground farming.
The results are extremely positive for all concerned, with significant optimisation of space, as production can be concentrated and yields improved by up to 6 times compared with conventional methods.
1: figure measured by an independent, certified expert, Ecocert
2 : measures carried out by Agripolis on 2 sites in 3 seasons
in Co2 emissions per kg produced 1
up to 90% water savings 2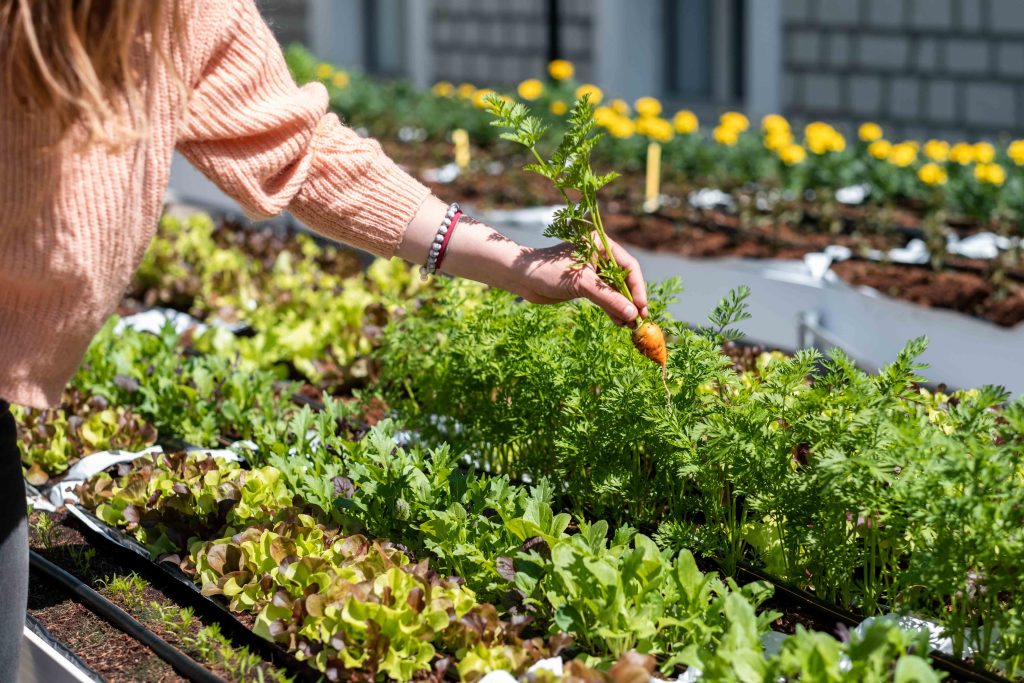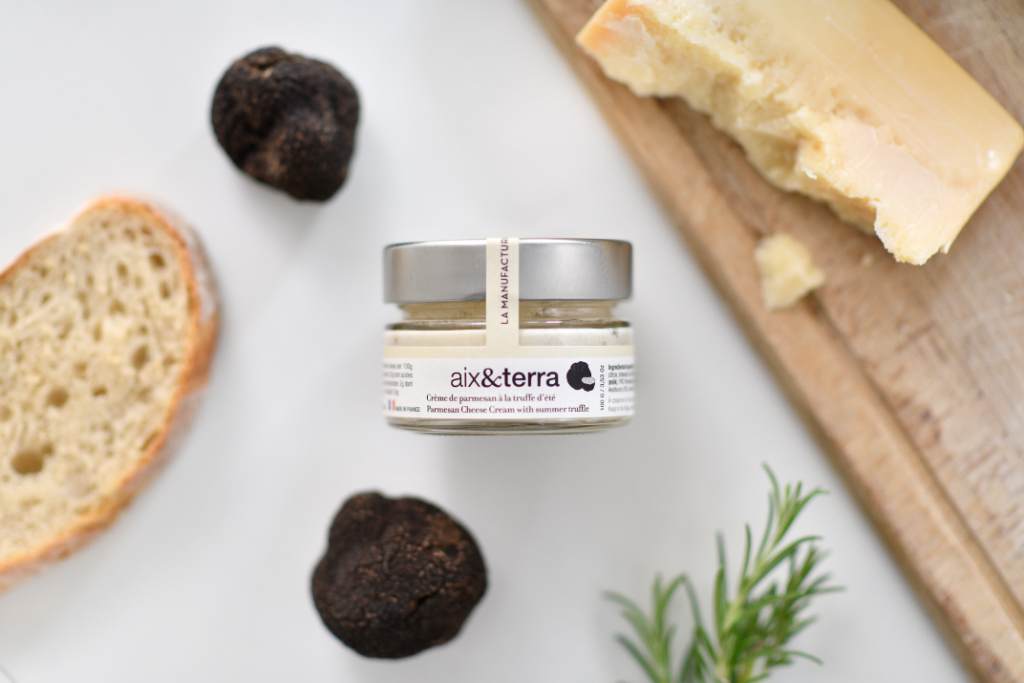 One of the partners of our restaurant "A l'Epicerie" is none other than the Aix&terra factory. What a pleasure it is to cook organic 50% flavours, made in France and signed by an artisan member of the Collège Culinaire de France! You can buy these flavours in our grocery corner and taste the delicious jam recipes in a breakfast buffet. Le BIO by Aixetterra : 100% jams, 100% macerated oils, 80% aperitif range
of our macerated oils are ORGANIC
to complement anti-waste recipes
One of the partners of our restaurant "A l'Epicerie" is none other than the Phénix organization, partner of Atypio Hotels Resorts. Why is this necessary? Because it is not always easy for a restaurant to adjust its production to future customer consumption at 100%, in order to avoid any waste: food, energy, work of the f&b team. What is the Phénix application: it is to act together against waste by reselling unsold products at reduced prices so that nothing is lost and wasted!
CO2 emissions avoided (Atypio)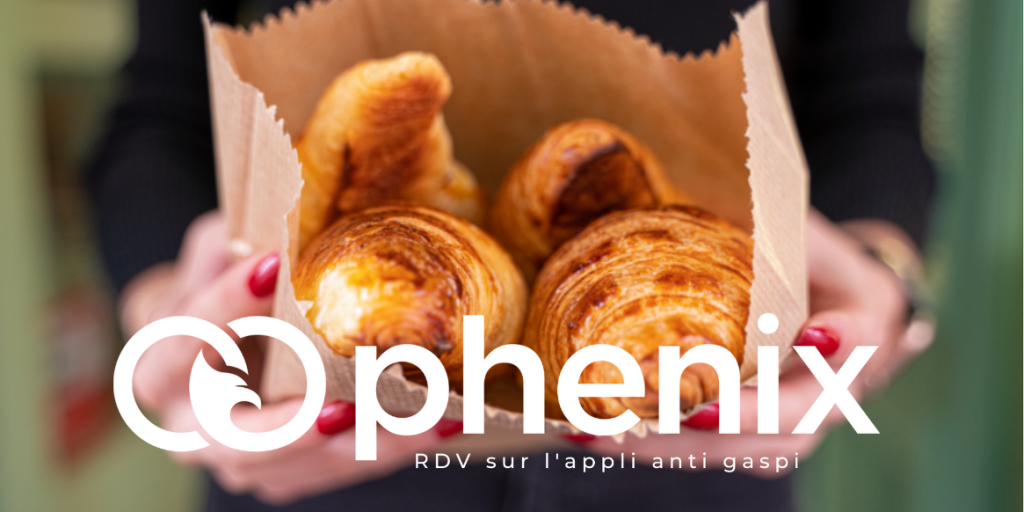 Our "A l'Epicerie" table features renowned local craftsmen. For our incredible and magnificent xxl cheese cloche cabinet, we work with Tourrette. 
+80% of the production refined by Tourrette is French
Most of our milk is produced in the traditional way, with respect for the cows! In fact, they live in outdoor pastures (except in winter, of course), so there's no battery farming and they keep their horns. Well done for the respect and well-being shown to their livestock. Maison Tourrette pays close attention to these issues with its partner farmers and producers. 
minimum of French cheeses
maximum number of different cheeses